At Active Element we understand how difficult and complicated it can be when selecting the right commercial dishwasher for your business. We have been where you are now, and we'd like to share with you general guidelines that can help you decide what is best for you and the needs to your commercial kitchen. This article details the different types of dishwashers, the difference between "high temperature" and "low temperature" commercial dishwashers, important considerations, such as power requirements, questions to ask when you think you've found the right dishwasher and more! We're excited to help guide you through this process so you can select the right commercial dish machine for your business without any surprises. For your convenience, this same information can be found in this video by our Owner, Scott Golub. Now let's get started!
What type of Dishwasher? Under-Counter, Conveyor, or Door type.
First when selecting a commercial dishwasher, you must decide where your this device will go in your commercial kitchen and how many racks of dishes you expect to wash on an average day. If you are a small business with fewer dirty dishes and limited space (such as a bar or coffee shop) you may only require an "under-counter dishwasher." As the name hints, these can be installed under a counter in your business and requires less space, but can still clean 20-30 racks of dishes per hour. This tends to be the one of the cheapest options of commercial dishwashers and range from $3,000-$7,000 in price. If you are a large, high-volume business and require continuous cleaning of items (up to 225 racks per hour), you may consider a "conveyor dishwasher." While this is the most expensive of the commercial dishwashers ranging from $13,000 to $25,000 in cost, it is most successful for large volumes and is cost effective in terms of time and labor as the conveyor belt will bring in and remove items to be cleaned with minimal human labor. However, this type of commercial dish machine tend to take up the largest footprint.
If neither of these dish machines options seem to fit your needs, you may be a middle-sized operation that only requires a "door type dishwasher." This is the most common and and can efficiently clean 65-75 racks of dishes per hour, and costs only $2,500-$17,000. Door type dishwashers cannot be installed under a counter, and will need necessary space for installation. Once you have decided the type of dishwasher you will require for your business in terms of volume of dishes and space available to install your commercial dishwasher, you must decide if you need a low-temperature or a high temperature dishwasher.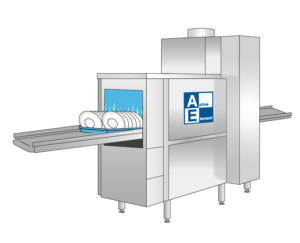 Conveyor
Large operations with large dish volumes
Efficient saving time and labor
Capable of 225 racks per hour
Price range: $13,000-25,000
Door Type
Mid-size operations
Process large dish volumes and minimal space requirements
Capable of 60-75 racks per hour
Price range: $2,500-11,000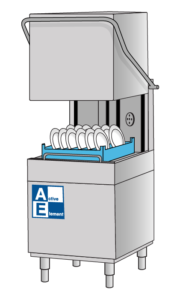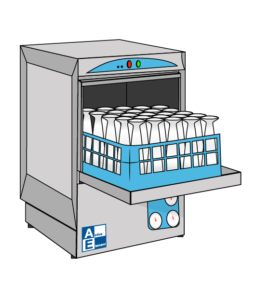 Under-counter
Small restaurants, coffee shops, and bars
Locate at point-of-use
Capable of 20-30 racks per hour
Price range: $2,000-7,000
High Temp vs. Low Temp
Once you've narrowed down which ware washer may be best for your business, you need to decide if you want a "low temperature" or "high temperature" dishwasher. The final step of the entire cleaning cycle is the sanitize step. While the wash step removes food and other debris from your dishes, the sanitize step makes the dishes hygienic and removes bacteria and other microbes (sanitizing them). A high temperature commercial dishwasher uses hot water (180° F) to kill microbes and disinfect dishes, while a low temperature dishwasher uses a chlorine sanitizer to sanitize the dishes. The high temperature dishwashers use a water heater booster to heat your hot water supply to a temperature that can kill most microbes (180° F). However, some high temperature dishwashers do not have the water heater booster automatically installed, so you will need to have a professional install it for you and/or you may need to purchase it separately. A benefit of the high temperature dishwasher is that you do not need to purchase commercial dishwasher sanitizer because it uses 180° F water to do this step, but these dishwashers tend to be more expensive and your utility bill will be higher because it requires energy to heat up the water to this temperature. The high temperature dishwasher requires 220 V/ 3 phase power supply, if you're unsure of your power supply you will need to hire an electrician to help determine your power supply or install this power supply for you. We do not recommend hardwiring the dishwasher to your power supply without determining your power supply first as this can be dangerous, harmful to personnel causing injury or death, and overwork your power supply or dishwasher (breaking them). Always consult professionals before changing your power supply or providing electrical to your new dishwasher.
Low temperature commercial dishwashers only require 120 V/ 1 Phase or 220 V /3 Phase power supply. The low temperature dishwashers also tend to cheaper and the utility bills to run them will be lower, but you will need to purchase chlorine dishwasher sanitizer. If you run a company (such as a beer brewery or alcohol distillery) where the dishware can affect the taste of your beverages during production, we do not recommend a low temperature dishwasher because the chlorine sanitizer may affect the taste.
High Temp- Uses hot water > 180 F to clean and sanitize
 Pros:

Sanitizes using hot water
Uses less chemical and no sanitizer
Cons:

Higher utility costs to heat water
Dishwasher is more expensive
Requires a heater booster pumper if not built into machine
Low Temp- Cleans with water jets at 120-140degree and chemicals.  Disinfects with chemical sanitizer.
Pros:

Lower utility cost to heat water to 120-140 degrees
Less expensive to purchase machine
Cons

Higher chemical usage
Sanitizes with chemicals
Final considerations
Lastly, it's important to consider any other specifications you may require. If you run a bakery and will need to wash large baking sheets you may require a "tall" dishwasher which tend to be more expensive. If your space does not have ventilation you may need a "vent-less" dishwasher which does not release the steam and reuses energy, but again tend to be more expensive machines to purchase. We would recommend measuring your space requirements for your dishwasher, and finding out your electrical power supply. This will be important for the next step when you begin looking for a dishwasher to purchase.
Once you select your type of dishwasher, whether you want a low or high temperature machine, and have considered all the potential requirements of your dishwasher, what's next? Now it's time to find a dishwasher to purchase. For information on how to search for a dishwasher to purchase please click on the link  for an informational video and article describing this process.
We hope you found this article and the video link helpful! Please leave us a comment below with any questions or comments you may have and we can answer them and update this article.